On Sunday September 20, 15:00-16:00, Eleni Kosta from Tilburg University will give a lecture as part of the WAMS "Data Rush" programme entitled
Leaving traces, living profiled: the legal challenges from 'consenting' to tracking in online and mobile environments.
The lecture will take place at the Noorderlicht fotofestival venue (the Old Sugar Factory, Energieweg 10, Groningen, directions).

Abstract
Have you ever wondered how it is possible that the same website appears to you in another language than me, without burdening us with constant questioning on our preferred language? This is done through cookies that are quite strongly regulated in the EU. But then you have also noticed the annoying cookies notifications on EU website, which indicated that something went wrong with the practical implementation of the law. Have you also may wondered why you get a question whether you allow your phone to send your location (where to?) in order for you to make use of a mobile application? Why is this happening and what is done with your location data? This lecture will attempt to provide you with answers to such practical questions and reflect on the efficiency and effectiveness of the European legal framework.
Biography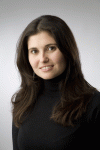 Dr. Eleni Kosta is Associate Professor of Technology Regulation at the Tilburg Institute for Law, Technology and Society (TILT, Tilburg University, the Netherlands). Eleni obtained her law degree at the University of Athens (Greece) in 2002 and a Masters degree in Public Law at the same University in 2004. In 2005 Eleni completed an LL.M. in legal informatics at the University of Hannover (Germany) and in 2011 she was awarded the title of Doctor of Laws at the KU Leuven (Belgium) with a thesis on consent in data protection. Eleni is conducting research on privacy and data protection, specialising in electronic communications and new technologies, as well as on health law and intellectual property. She has been involved in numerous EU and national research projects. In 2014 Eleni was awarded a three-year personal research grant for research on privacy and surveillance by the Netherlands Organisation for Scientific Research (VENI/NWO).