On Sunday October 4, 15:00-16:00, Jaap-Henk Hoepman from Radboud University / Privacy & Identity Lab will give a lecture as part of the WAMS "Data Rush" programme entitled
Honest design.

The lecture will take place at the Noorderlicht fotofestival venue (the Old Sugar Factory, Energieweg 10, Groningen, directions).

Abstract
The dream of an open and free Internet is all but shattered. It has become an instrument for government surveillance and industrial profiling. As a result, people trust their smartphones and the internet services they use less. This is a shame, because many Internet services and smartphone apps are genuinely useful. And, if properly designed, you can be in control over such devices and services when you use them, without having to worry about negative consequences. In this talk I will explain how.
Biography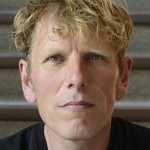 Jaap-Henk Hoepman (1966) is associate professor at the Digital Security group of the Radboud University Nijmegen, the Netherlands. He is also scientific director of the Privacy & Identity Lab.
He studies privacy by design and privacy friendly protocols for identity management and the Internet of Things. He speaks on these topics at national and international congresses and publishes papers in (inter)national journals. He also appears in the media as security expert, and writes about his research in the popular press. He is actively involved in the public debate concerning security and privacy in our society.
Jaap-Henk is, among others, co-founder of the Privacy & Identity Lab, member of The Internet of People, former member of the Executive Board of Trust in Digital Life, former chair of the IFIP working group 11.2 on "Pervasive System Security", and former coordinator and co-founder of the Kerckhoffs Institute offering a master programme in Computer Security.
In his free time he enjous making composing music, designing graphics, cooking, and practice Okinawan Goju Ryu karate-do.