On Sunday September 6, 15:00-16:00, Jeroen van den Hoven from Delft University of Technology will give a lecture as part of the WAMS "Data Rush" programme entitled
Data protection in the age of Big Data: what is at stake?

The lecture will take place at the Noorderlicht fotofestival venue (the Old Sugar Factory, Energieweg 10, Groningen, directions).

Abstract
I discuss two scandals. The first is that advocates of privacy often have trouble explaining why privacy is morally so important, or if they are articulate about the rationale of privacy, they disagree among themselves. The second scandal is that we still are hostage of the metaphor of the balance of national security vs. privacy, which is unhelpful. I try to indicate ways out of the fly bottle.
Biography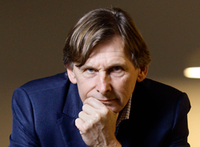 Jeroen van den Hoven is full professor of Ethics and Technology at Delft University of Technology, he is editor in chief of Ethics and Information Technology. He was the founding scientific director of 3TU.Ethics (2007-2013). He won the World Technology Award for Ethics in 2009 and the IFIP prize for ICT and Society also in 2009 for his work in Ethics and ICT. He is Programme Chair of the Dutch Research Council on Responsible Innovation and member of the board of trustees of Bentley University.